Commissions
A large part of Serena' work is made up by commissions from clients. She is able to offer this service in a wide variety of media and can tailor her work to suit your requirements.
This page of the website showcasses just some of the pieces that she has undertaken and perhaps give you some ideas for your project.
Please feel free to contact us for more information or to discuss your proposal...


Glass Art Vases
Serena offers a range of vases suitable for floral displays or to use as tea light holders. You can commission Serena to create your own design and colour scheme from the beautiful array of colours available.
Please email us for more information, or call to discuss your project at any time... 01225 868644.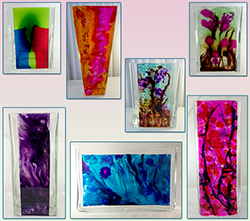 Glass Art Tables
Our Glass Art Tables are another extremely popular product to have designed to your requirements.
Beautiful and vibrant colours are available and can again be matched to suit your decor, or outdoor garden suite. The image to the left shows just some of the range of colours and designs available.
Give us a call with your ideas at any time... 01225 868644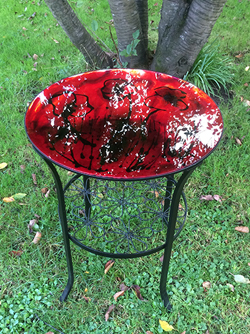 Fine Art Commissions
We take many commission from clients for fine art work, including everything from Pet Portraits to houses, cars, scenes and even book artwork.
Serena is able to work in a wide variety of media, so whatever your project, we may well be able to help.
Give us a call with your ideas at any time... 01225 868644